Looking for more eggplant recipes? I know I am! I really like eggplants, and I try to vary the way I cook them. Here is another recipe that uses fried eggplants. Since there already is a recipe on this blog that teaches you how to make fried eggplants, we are just going to refer to it here.
In fact, this recipe combines two of the recipes already posted here, Fried Eggplants and Lightly Marinated Red Onions with Dill.
Once you have make fried eggplants and lightly marinated onions with dill, you will just need to put them together on a plate.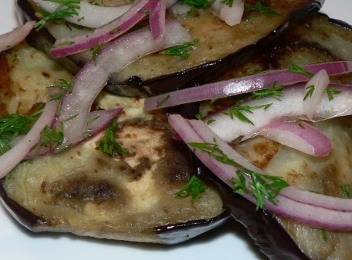 How To Make Eggplant With Red Onion Topping
Fry eggplants, as discussed in the fried eggplants recipe.
Make the marinated onions, as discussed in the Lightly Marinated Red Onions with Dill recipe.
Arrange eggplants on a plate. Top with some marinated red onions and serve.