Looking for a delicious fall salad? Here is a very simple and very tasty salad, that looks great too.
When fall starts, everyone starts making dishes with root vegetables. I like root vegetables, they are delicious! Beets, carrots, turnips, parsnips, rutabaga — there are so many delicious root vegetables!
And beets are one of my favorite root vegetables. They are sweet, and they taste great in salads. Since they are sweet, I like to add a bit of vinegar to the salad, for some flavor contrast.
Add goat cheese for creaminess. And, add basil as well, I really like basil in this salad. That's it — this salad is delicious and very simple to make!
One thing to note about this salad is that if you cook anything together with red beets, the red beets will color it red

So if you would like the golden beets to retain their golden color, cook the different types of beets separately.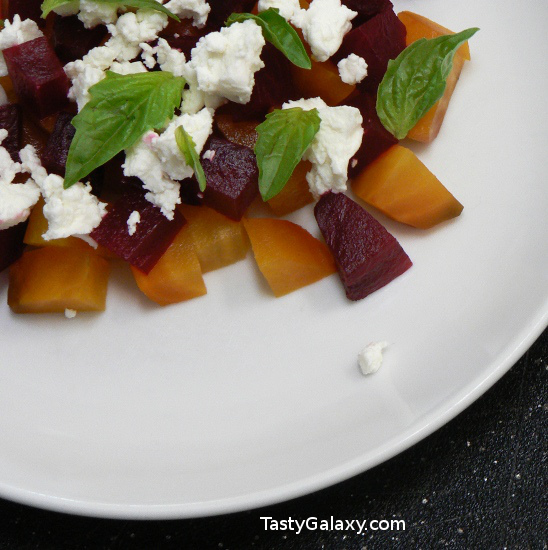 Ingredients For Golden Beets And Red Beets Salad
2 Medium Golden Beets
2 Medium Red Beets
Goat Cheese
Basil
1 Tablespoon of Olive Oil
1 Teaspoon of Apple Cider Vinegar
How To Make Golden Beets And Red Beets Salad
Wash the beets.
Boil or roast the beets. Note: Cook the beets separately. If you cook them together, the red from the red beets will color the golden beets, and you will not be able to see that wonderful golden color.
Once the beets are cooked and cool, peel the beets. Chop the beets into small cubes. Toss with olive oil and vinegar. Add goat cheese and basil and mix.