I know that a lot of readers are looking for information on how to fry rice, and how to make fried rice. The whole recipe of making fried rice is very, very simple. There is just one secret to making fried rice, that I have learned a long time ago.
Here is the the secret:
"The rice should NOT be freshly cooked".
I have experimented with it, and this is true. You really don't want to use freshly made rice, when making fried rice. It just doesn't taste the same, doesn't taste as good.
If you want to make fried rice, plan ahead, and make the rice the day before. Then, store it in the fridge until when you want to make fried rice.
I don't usually have this problem, as I always end up making fried rice when I have leftover rice. For this particular recipe, I used leftover brown rice. I have been wondering how fried rice, made with brown rice, tastes. I have to tell you, with everything that I have added to the fried rice, no one even noticed that it was made with brown rice, and not with white rice.
If you are looking to add more whole grains to your diet, this is perfect for using brown rice! With eggs, soy sauce and veggies, the brown rice kind of blends in, and goes unnoticed

Since I have posted this Fried Rice Recipe, I started using onions in my fried rice. I love onions, and I am not sure why it took me so long to add them to fried rice. Both onions and garlic add a lot of flavor to this fried rice!
This fried rice recipe doesn't use any meat or seafood ingredients, so this is a vegetarian fried rice. You can, of course, adjust the recipe to use meat, or you can serve stir fried chicken of beef on the side, with this fried rice.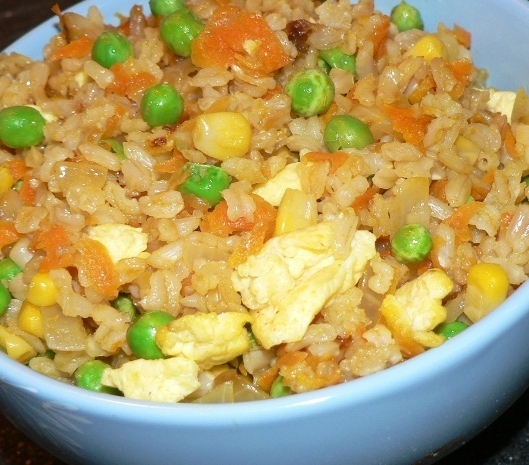 Ingredients For Vegetarian Fried Rice
1.5 cups of cooked brown rice. See information a few paragraphs above, on why you should not use freshly made brown rice in this recipe. This should be day old brown rice from the fridge.
1 Medium Onion
2 cloves of garlic
1 Medium Carrot
3 Eggs
2 Tablespoons of Milk
A few handfuls of frozen peas
A few handfuls of frozen corn
1 Tablespoon of Soy Sauce
2 Tablespoons of Canola Oil for frying
How To Make Vegetarian Fried Rice
Peel the onion and chop it. Peel the garlic cloves, and mince them.
Peel the carrot, and grate it.
Whisk the eggs with milk. Add a tablespoon of oil to the saute pan, and add the egg and milk mixture, to make scrambled eggs. Once the eggs are cooked, remove to a plate. Once the eggs cool, chop them into small pieces.
Heat up another tablespoon of oil in the saute pan. Add onions. Saute for 5-7 minutes, until they get softer. Add garlic and continue sauteing for 3 more minutes. Add grated carrot, and saute for 4 more minutes.
Add the cold rice to the onion-garlic-carrot mixture. Break the large pieces. Keep cooking, until the rice warms through, for 5-6 minutes. Add soy sauce, and frozen peas and corn, and continue cooking, for 5 more minutes.
Add eggs, and cook for a few minutes. Now your Vegetarian Fried Rice is done!