I like eggplants, and there are lots of eggplant recipes on this blog. Take a look at Eggplant Stacks With Goat Cheese And Tomatoes, Couscous Salad With Eggplants, Feta and Red Onions and Quinoa Salad With Eggplants and Peppers.
Another great recipe with eggplants is Baba Ganoush Recipe. Baba Ganoush is a very tasty spread made with eggplants, lemon juice, olive oil, garlic, parsley and tahini. It is very easy to make – you put all of the ingredients together into a food processor and create a spread!
Baba Ganoush is very versatile – you can put it on bread, on pita, on a sandwich and more! Here they are served with chips made out of tortillas. And this Baba Ganoush Recipe is very easy. Just put all of the ingredients into a food processor and you are done.
Baba ganoush is a great appetizer. Here are a few more appetizers: Tzatziki Recipe, Mushroom and Eggplant Dip, Spanakopita Recipe.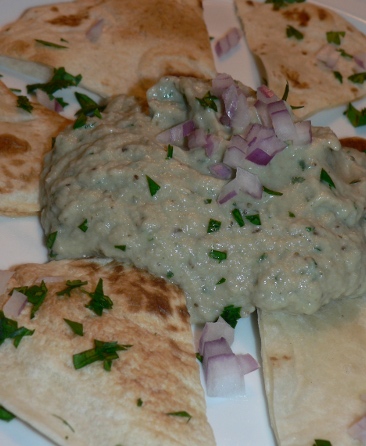 Ingredients You Need For Baba Ganoush Recipe
2-3 Medium Eggplants
1 tablespoon of Parsley
2-3 Garlic Cloves
1 Tablespoon of Lemon Juice
2 Tablespoons of Tahini
1/4 cup of Olive Oil
Tortillas
Red onions and parsley for garnish
How To Make Baba Ganoush
Roast eggplants. Cool eggplants, peel them and chop. Chop parsley.
Peel garlic and put garlic through a garlic press.
In a food processor or blender, combine eggplants, parsley, garlic, tahini, lemon juice, olive oil and process until smooth.
To make tortilla chips, cut each tortilla into six triangles. Toast for a few minutes in the oven until crispy.
Garnish Baba Ganoush with chopped red onions and parsley and serve with tortilla chips.