Here is another very easy main dish to make, which is Shrimp Scampi. But first, a fun fact – scampi means lobster, prawn or sometimes shrimp in Italian. This means that the recipe can be called Shrimp Shrimp.
Back to the Shrimp Scampi recipe. This shrimp recipe is very simple and very easy to make. It is very fast to make, too. Shrimp cooks very fast, so make sure not to overcook it. And the sauce is very easy to make, and it is very delicious. Butter, garlic, wine, lemon – how can you go wrong?
To make shrimp scampi, start by sauteing the shrimp. Then, take the shrimp out and make the sauce. To do that, saute garlic for a minute. Then, add wine to the sauce and cook for a minute. Then add lemon juice, cook for another minute, then add lemon rind, and cook for 20 seconds. The put shrimp back into the saute pan, and add the parsley. This is a simple shrimp dish to make, but it tastes great.
Serve Shrimp Scampi with pasta – the butter sauce will be absorbed by the pasta and it will taste great. Add a salad, such as Simple Tomato Salad, Panzanella Salad or Greek Salad and you have a complete meal!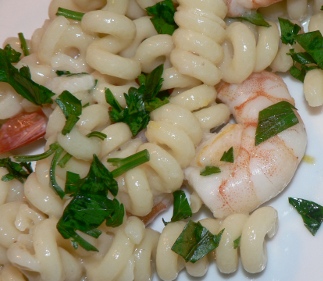 Tools For Making Shrimp Scampi
Cutting Board
Dinnerware
Saute Pan
Pasta Pot
Ingredients For Shrimp Scampi
1/2 Pound of Dry Pasta
1 Pound of Shrimp, shelled and deveined
3 cloves of Garlic
2 Tablespoons of Butter, divided
1 tablespoon of lemon juice
zest of 1/2 Lemon
1/4 cup of White Wine
1 tablespoon of Parsley
How To Make Shrimp Scampi
Cook the pasta according to the instructions on the package.
Chop the garlic and parsley on a cutting board.
Dry the shrimp. Melt 1 tablespoon of butter in the saute pan. Add the shrimp to the saute pan and cook for a few minutes on each side, until they are done. Take the shrimp off the saute pan.
Melt the second tablespoon of butter in the saute pan. Add garlic and cook for 1 minute. Add wine to the skillet, cook for 1 minute. Add lemon juice, cook for 1 minute. Add the lemon rind, cook for 20 second. Add the shrimp back, mix with the sauce, garnish with parsley.
To serve shrimp scampi, put pasta on a plate and put shrimp on top of the pasta.