If you are looking for asparagus recipes or how to cook asparagus, I have great news for you! Asparagus tastes great and it is pretty easy to cook, too!
Just like with other green vegetables, such as broccoli, the key to cooking asparagus is not to overcook it. When you are cooking asparagus in water, or when you are making steamed asparagus, don't overcook it. When you do, it becomes greyish looking and mushy, and not very tasty.
I think that when people say they don't like steamed green vegetables, many times they don't like those mushy greyish vegetables that they get when they overcook them. On the other hand, when you steam a green vegetable for just the right amount of time, you get a green vegetable that is crunchy and very tasty.
The best thing about making steamed broccoli or steamed asparagus is that it is very easy to make. All you need to do is boil water in your steamer, steam the asparagus and you are done!
Here are a few other simple vegetable preparations: Green Beans and Tomato Salad, Broccoli Stir Fry, Roasted Cauliflower.
Serve the steamed asparagus with Shrimp Scampi, Chicken Piccata, Stuffed Peppers.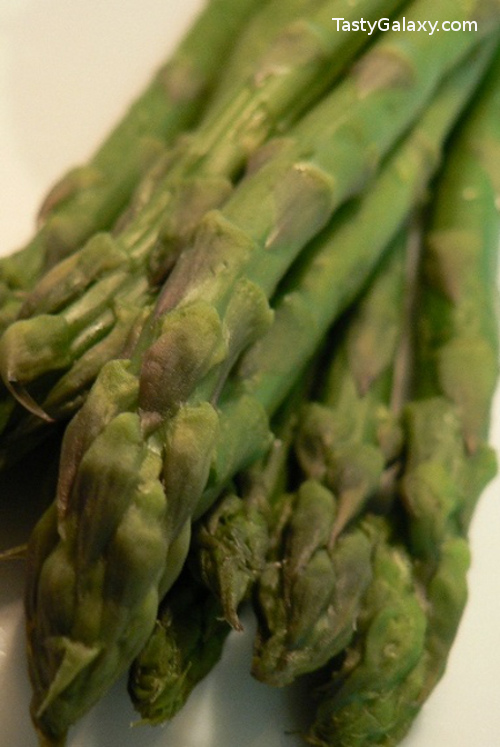 Ingredients For Steamed Asparagus
Asparagus
Tools You Need To Cook Asparagus
How To Make Steamed Asparagus
Wash and clean your asparagus.The ends of asparagus are usually tough, so you will want to discard those. Just cut off and discard the the tough ends.
Add water to your steamer and bring it to boil. Put asparagus on the insert, and steam. Now, the time for steaming it really depends on how crunchy you want your asparagus to be. Steam for 5-7 minutes.
Once asparagus comes out of the steamer, let it cool and enjoy.