Looking for fun Halloween food gifts that are not very expensive and that look great? Take a look at this great gift!
This Halloween mug is a personalized mug, that also comes with cocoa.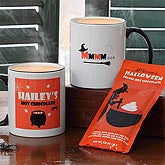 Halloween Mug And Hot Cocoa Set
Artists created a whimsical 2-sided design of a steaming witch's cauldron and yummy marshmallows full of sweetness and flavor. Personalized, of course, with their first name to claim the Mmmmm good treat inside!
Each mug is completed with a 1.25oz. single serving packet of delicious Orange Colored Gourmet Hot Cocoa to warm their heart and their senses. This creamy and smooth premium mix is flavored with white chocolate and magically turns orange when mixed with hot water; sure to be a crowd pleaser this Halloween!
Treat the entire family to their own, personalized mug and take the chill out of those fall cold days!
Creatively presented with tissue paper, your gourmet cocoa and mug will be tied with a ribbon making a fun presentation and conveniently ready for gift giving!
More Information About Halloween Mug And Hot Cocoa Set