I like cooking with cabbage - it is delicious, and it does not have many calories, a great combination when you are cooking healthy meals.
Cabbage is a great ingredient - you can use it in salads, you can use it in side dishes, and you can use it in main dishes as well. One thing that I have been seeing more and more lately, is roasted cabbage. Sounds interesting, and I will have to try that - have you tried making roasted cabbage yet?
Here are a few simple cabbage recipes: Lazy Cabbage Rolls, Reuben Sandwich, Cabbage Salad Recipe.
Making cole slaw is pretty simple, but there are tons of different cole slaw recipes out there. This cole slaw uses red cabbage, it makes the cole slaw really colorful. But you can also use green cabbage in this recipe. There are just three ingredients in this recipe, red cabbage, onions and carrots.
Next comes the cole slaw dressing. Just like there are tons of cole slaw recipes, there are also tons of cole slaw dressing recipes. There are tons of different ingredients used in cole slaw dressings. In this recipe I am using a simple and minimalistic cole slaw dressing made with mayonnaise, apple cider vinegar and sugar.
Another question is - how much cole slaw dressing do you use? Some people like just a bit, others like a lot of dressing in the cole slaw, to make it very creamy. I am somewhere in the middle, I like to be able to see and taste the cole slaw dressing, but I don't like too much of it.
To make cole slaw, thinly slice the cabbage (or use a food processor to slice the cabbage), salt a bit and let stand for a few minutes. Add grated carrots, chopped onions and dressing and mix.
Question: What is your favorite cole slaw dressing recipe?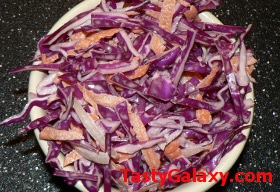 Ingredients For Cole Slaw Recipe
1/2 of a medium Red Cabbage
1/2 of a small Onion
1 medium Carrot
Salt
For Cole Slaw Dressing
1/2 cup of Mayonnaise
2 tablespoons of Apple Cider Vinegar
1 teaspoon of Sugar
How To Make Cole Slaw
Wash the red cabbage and thinly slice red cabbage (you can use the food processor to slice it). Put the cabbage in a salad bowl, add a bit of salt, mix and let stand for a few minutes.
Peel and wash the onion. Thinly slice the onion on a cutting board.
Wash, peel and grate the carrot.
Make the dressing - in another bowl, combine mayonnaise, apple cider vinegar and sugar, and mix well.
Put the onions and carrots into the salad bowl with cabbage, and mix. Add half of the dressing and mix. Taste and see if the cole slaw needs more dressing. If it does, add more dressing and mix.