It's true, you eat with your eyes first. When the food looks beautiful and colorful, we really want to eat it. And this is one of the keys to healthy eating – when you make healthy food that also looks great, you are much more likely to eat the healthy food!
And this black bean and corn salad is great – it is full of good vegetables, it looks great and it is very tasty. I have tried a few different vegetable combination in corn salads. While all of them looked and tasted great, I wanted to share this one with you.
If you are trying to include more beans in your diet, this one is great! It has both corn and beans, and it has red peppers, cucumbers, scallions and cilantro. This combination of vegetables goes so well together, that you don't really need a dressing. I did add the dressing (lime juice/olive oil), but I tried the salad both before and after the dressing, and I didn't feel that the dressing added a lot. The vegetables are so great together, that even if you skip the dressing, you are still going to make an extremely tasty salad.
In this salad I used dry black beans and I cooked them myself. If you have some canned black beans, those are fine to use, just rinse them first.
Here are a few other easy recipes for you: Watermelon Feta Salad, Cabbage Salad.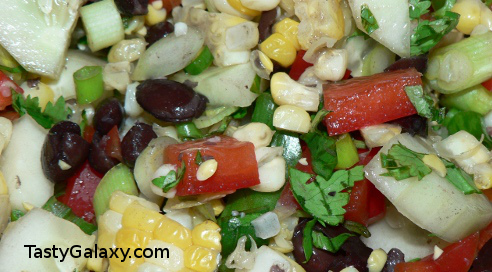 Tools You Need To Make Black Bean And Corn Salad
Knife
Cutting Board
Salad Bowl
Salad Mixing Spoon
Dinnerware
Ingredients for Black Bean And Corn Salad
Corn kernels from 4 ears of corn
1 cup of cooked black beans
2 medium cucumbers
5 scallions
1 tablespoon of cilantro
1 red pepper
juice of one lime
2 tablespoons of olive oil
Salt
Pepper
How To Make Black Bean And Corn Salad
Cook the corn ears, let them cook and cut off the kernels. Then chop them into bite-size pieces.
If you are using black beans from a can, don't forget to rinse them!
Peel and chop the cucumbers on a cutting board.
Chop the scallions. Chop cilantro. Chop the red pepper.
In a salad bowl combine the corn kernels, black beans, cucumbers, red pepper, scallions and cilantro. Mix with a salad spoon to combine. The salad is great on its own, but you can dress is too!
Add lime juice, olive oil, salt and pepper and toss everything to combine.