Looking to make delicious and simple salads now that spring is here? Eating healthy means adding more vegetables and fruits to your meals. And this is what spring salads are fabulous for - they are delicious, and they help you eat healthier at the same time.
These salads are simple to make. So add the salad ingredients to your shopping list, and you will be able to make these salads for dinner fast.
What is your favorite salad picture? Click the "Pin it" button and Pin it!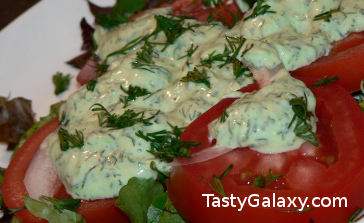 Tomato Salad With Green Goddess Dressing
Looking for a lighter salad dressing for spring? My Green Goddess Dressing is a lightened up version of Green Goddess Dressing recipes I have seen. Many recipes that I have seen use mayo. I have substituted Greek yogurt for mayo, and the rich, delicious Greek yogurt makes for a fabulous salad dressing.
The combination of Greek yogurt with dill, parsley, scallions, as well as anchovy paste and Red Wine Vinegar, makes for a great salad dressing to put on a spring salad. So if you don't want a simple salad dressing of oil and vinegar, but want a slightly more elaborate, creamy dressing for a spring salad, this is the dressing to make.
Here is a really simple salad that will go with this dressing - tomatoes, onions, and mixed greens. Wash them, chop them, mix together and dress with the Green Goddess Salad Dressing.
Strawberry Spinach Salad
I like a combination of fruits and vegetables in the salad, and this salad is great for that. Green spinach and delicious strawberries go really well together. Almonds add a bit of crunch to this salad.
The salad is dressed really simply with olive oil and vinegar. I used Raspberry Vinegar in this salad to continue the berry theme, and it really complements the salad.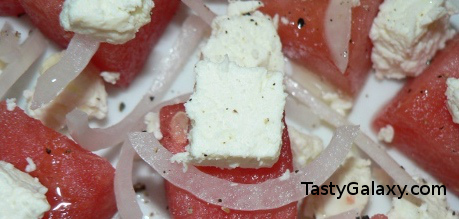 Watermelon Feta Salad
Here is a delicious salad that also looks great. Red watermelon and white feta provide a striking color combination, and I love the little specks of black pepper in the salad, to provide a bit of additional color contrast and some spice.
This salad is so simple to make, that you don't even have to mix it! All you need to do is cut watermelon and feta into pieces, onions into really thin slices, then arrange watermelon, feta and onions on a plate, add a few drops of olive oil and a bit of black pepper and you are done!
Grape Tomatoes, Onions and Cucumber Salad Recipe
Here is another simple salad that is very easy to make, and that looks and tastes great! Cut the grape tomatoes in halves. Chop cucumbers, onions and parsley. In a salad bowl combine tomatoes, cucumbers, onions and parsley. Dress with olive oil and apple cider vinegar, and season with salt and pepper.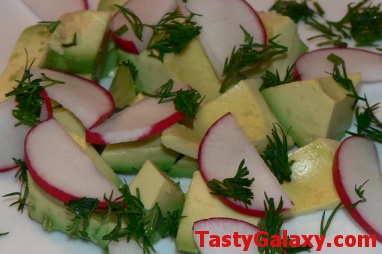 Avocado And Radish Salad Recipe With Dill
Radishes are great in the spring. And combination of avocados and radishes is delicious, because avocados and radishes together in a salad makes for a great salad.
Avocados are soft, silky, buttery, mild, and green. Radishes are hard, crunchy, spicy and red. The two together in a salad are delicious. Cut avocados into small pieces, cut radishes into thin pieces, dress and sprinkle with dill. Dressed very simply with lime juice, this is a great spring salad to make.