Looking for easy recipes? Here is one! This pear salad is very easy to make, and it is very tasty too! Another thing about this salad that you can substitute many ingredients for others, and you will still have a very tasty salad!
For example, you may use fresh or canned pears, you may use blue cheese or Gorgonzola cheese, you may use pecans or walnuts - the salad will come out great.
Here are a few more salad recipes:
- A healthy salad with beans, Black Beans And Corn Salad
- Great Greek salad with vegetables and feta, Greek Salad
- Salad with goat cheese, Goat Cheese and Marinated Onions Salad.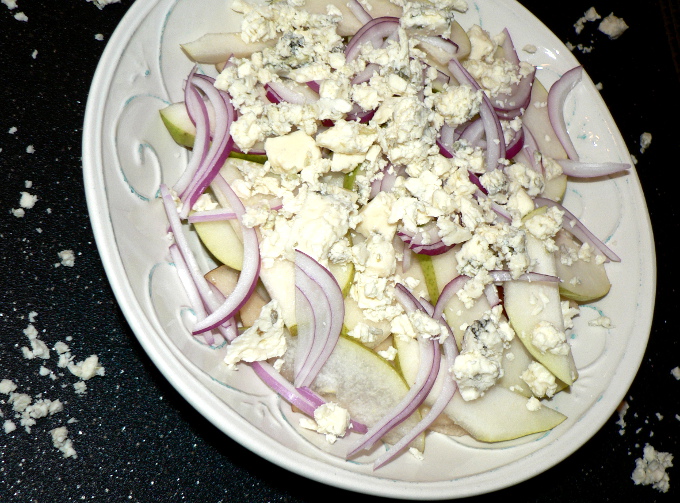 Tools You Will Need For Making Pear Salad
Knife
Cutting Board
Dinnerware
Salad Bowl
Salad Spoon
Ingredients For Pear Salad:
2-3 canned pears
Mesclun greens
Half of a small onion
Handful of Pecans
3 oz of blue cheese
1 tablespoon of olive oil
1 tablespoon of apple cider vinegar
salt
pepper
How To Make Pear Salad
Chop and toast pecans.
Chop the onion on a cutting board.
Drain the pears and chop the pears on a cutting board.
In a salad bowl, combine pears, onions, mesclun greens, nuts. Dress with oil and vinegar, and mix. Add salt and pepper to taste, and mix. Crumble blue cheese on top and serve.