I like putting different spins on everyday dishes. Recently, I posted about a Greek spin on pasta salad, Greek Pasta Salad Recipe.
This recipe is putting a Greek spin on a potato salad. I have written lots about potato salads before. Here is one that is more of a classic potato salad – it has potatoes, eggs, salary, parsley and mayonnaise. Here is another potato salad recipe, this is potato salad without eggs.
I have also posted about a potato salad without mayonnaise – there are two potato salads without mayo: Potato Salad With Fried Onions and Scallions and Potato Salad With Blue Cheese.
Here is another great potato salad recipe, and in this one I am putting a Greek Style spin on this potato salad. It's very simple and has just a few ingredients – potatoes, feta cheese, onions, dill and parsley. The dressing is also simple – I used some red wine vinegar, lemon juice, olive oil, salt and pepper. You can add dry oregano to it as well, and that will make it Greek Salad Dressing.
Here are more salad recipes for you: Black Bean Salad Recipes, Spinach Salad Recipe With Peaches and Red Onions, Green Bean Salad With Almonds and Red Onions.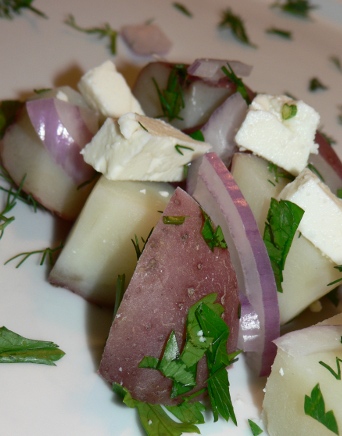 Ingredients You Need For Greek Style Potato Salad
2 pounds of small Red Potatoes
1/2 of a small Red Onion
1/4 of a pound of Feta
Dill
Parsley
1/2 Tablespoon of Lemon Juice
1/2 Tablespoon of Red Wine Vinegar
2 Tablespoons of Olive Oil
How To Make Greek Style Potato Salad
Cut red potatoes into small pieces and boil them. Once the red potatoes are cooked, drain them and wait for them to cool.
Crumble feta cheese. Chop red onions, dill and parsley.
Combine potatoes and onions. Add olive oil, lemon juice and vinegar and mix gently to combine. Add dill, parsley and blue cheese and mix gently just to combine.