I like using fruits and berries in savory dishes, for example: figs in Green Fig Salad With Feta, watermelon in Watermelon Feta Salad, strawberries in Strawberry Spinach Salad.
Now here it is the same – here cantalope is used in Cantaloupe Salsa Recipe. It you want to eat more fruit, but you don't like fruit by itself, try making fruit salads or fruit salsas to use with meat or fish. Those are delicious and go great with meat, fish or fish tacos.
If you are looking for cantalope recipes, this Cantaloupe Salsa is very easy to make and it tastes great! To make it, you will need to peel the cantaloupe, clean out the seeds and chop it. Then, combine it with red peppers, red onions, cilantro and lime juice. Mix the ingredients together, and you have Cantaloupe Salsa!
Here are more recipes with fruit salsas: Pineapple Salsa Recipe and Fish Tacos With Pineapple Salsa, Mango Salsa Recipe and Fish With Mango Salsa.
And here are some Fathers Day Gifts and Graduation Gifts.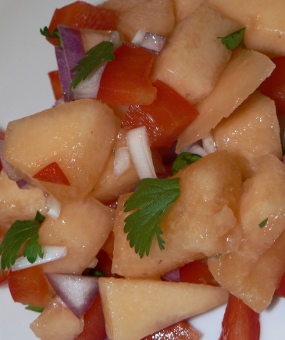 Ingredients for Cantaloupe Salsa
1/2 of a medium Cantaloupe
1 small Red Pepper
1/2 of a small Red Onion
A handful of Cilantro
Juice of 1/2 of a Lime
How To Make Cantaloupe Salsa
To make cantaloupe salsa, wash and peel the cantaloupe. Clean out the seeds and chop the cantaloupe. Chop the red pepper, red onions and cilantro.
In a salad bowl, combine cantaloupe, red pepper, red onions and cilantro. Dress with lime juice and mix.
And here is dinnerware for the summer: Stars and Stripes Dinnerware